My 'Perfect' Cottage in the Country and village of Wenhaston
Choosing  Dreadnought was very similar to choosing my husband – a 10 minute viewing then the sold sign went up...
We must have stayed in dozens of holiday cottages over the years, in some of the most beautiful parts of England. So when it came to choosing my own holiday cottage I had a very specific idea of what I liked - and what I didn't.
Had to be close to the sea in good walking country and no more than 2 and a half hours from home – my record so far is 2 hours 10 minutes but that was on the one day this year the M25 was miraculously empty.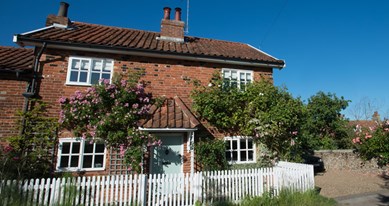 It had to have some character and a few beams would be nice – but with daughter's boyfriend a shade over 6ft 4in nothing too low. ( I did suggest changing the boyfriend  after viewing one particularly lovely little cottage but even my head was grazing the ceiling.)
It definitely had to be within walking distance of a pub, it had to have a garden that we could somehow fence in so the youngest member of the family,  Tiggy (that's the dog) couldn't escape and an absolute must was off street parking. There's nothing worse than arriving after a long journey and then fighting to find a parking space.........according to my husband.  The only bathroom downstairs?  That's another no – can't be traipsing up and down stairs in the middle of the night trying to find a light switch. (Husband again).
We needed two double bedrooms a biggish kitchen would be a real plus and of course,  I wanted it to look really pretty.
And having lived on a busy rat run for 25 years, it had to be in a super quiet , peaceful location.
Oh – and had to be within our not enormous budget. With that list you may wonder why it only took us 6 months not 6 years to find 'the one' .
Almost one year on has Dreadnought lived up to our dream? Pretty well, apart of course from the name – I was hoping for something like  'Honeysuckle Cottage' or 'The Dairy'  – but it grows on you.  The pub is a mere 7 minutes walk (yes, you've guessed,  husband has timed it) and what a great pub our local, The Star, is with good food, excellent beers and, best of all, they love dogs, even mine.
The cottage is wonderfully light – not on the famous checklist but what a bonus,  as are the lovely friendly neighbours.
But it's the silence I love the most.
Yes it needed a fair bit of work to create a holiday home that other people would, we hope, love as much as we did. But after four months of electricians, decorators, plumbers and builders we finally opened for business in June 2014.
And why Suffolk Coastal Cottages? Because Trish treats her guests the way I want to be treated –when I 'm choosing a cottage I want to talk to someone who knows the pub really is a 10 minute stroll and not a mile hike through a boggy field. (Brecon Beacons, Summer 2010). I want to know that if something should go wrong, there's someone on hand to help sort it, not a call centre that shuts at 5.00. (Peak District, Autumn 2013). And I want to know that everything is going to be as spotless and beautifully equipped as it looks in the pictures and I won't be reaching for the Marigolds as soon as I walk through the door. (Unforgettable Exmoor, summer 2009).
So is Dreadnought the perfect holiday cottage? Of course it's not – but we all love it....