Dog Friendly Stays in Suffolk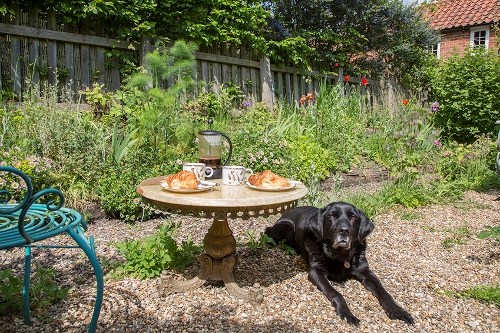 We have a variety of dog-friendly cottages that sleep 2-5 people and welcome one dog. Give your four-legged friend a happy holiday here!!
Photo © Roz Gordon
Enjoy your stay without leaving your four-legged companion behind! Cottages have enclosed gardens and there are plenty of walks from the door to farm tracks, local footpaths, heathland and more.. please bring your own dog bed, food and water bowl etc.. 
Dogs are welcome at many local pubs at or close to the Suffolk coast so you can enjoying walking and then lunch or dinner while out and about! There are plenty of dog friendly places to visit like National Trust's Dunwich Heath and Sutton Hoo, Millenium Green at Halesworth and the Suffolk Punch Trust near Woodbridge. Dog-friendly beaches along the East Suffolk coast abound, Dunwich, Sizewell and Walberswick have no restrictions,
however Aldeburgh and Southwold do.
Let your dog join in the fun too.
Our Dog Friendly Cottages
Some Dog-Friendly Places for Food and Drink:
The Star Inn, Wenhaston
The Queen's Head Inn, Blyford
White Hart, Blythburgh
The Ship, Dunwich
The Bell Inn, Middleton
Eels Foot Inn, Eastbridge
The Crown Inn, Westleton
The Plough & Sail, Snape
The Anchor Inn, Walberswick
The Bell Inn, Walberswick
The Plough, Wissett
The Lord Nelson, Southwold
Sole Bay Inn, Southwold
The Harbour Inn, Southwold
Here are some Dog-Friendly Places To Visit:
Nb. Dogs should be kept on leads unless stated and some areas may be restricted. Please enquire before visit
Dunwich Heath (please also see The 'Woof' Guide)
Millennium Green, Halesworth
Helmingham Hall Gardens
Southwold Pier
Norfolk and Suffolk Aviation Museum, Flixton
Oasis Camel Centre, Linstead
Hillside Animal Sanctuary, Norfolk
Suffolk Punch Trust, near Woodbridge
Sutton Hoo, near Woodbridge
Dunwich Museum
Big Dog Ferry, Beccles
Walberswick to Southwold Ferry
The Tide Mill Living Museum, Woodbridge
Stonham Barns, Stonham Aspel
Framlingham Castle
Here are some Dog-Friendly Beaches:
Aldeburgh (dogs allowed north end to Thorpeness)
Dunwich (no restrictions)
Sizewell (no restrictions)
Southwold (restrictions between 1 April - 30 September)
Walberswick (no restrictions)
Some Doggy Events:
Framlingham Country Show & We Love Dogs, Framlingham
Strutt Your Mutt, Benacre
Suffolk Dog Day, Helmingham Hall