Staying in Aldeburgh, Aldringham and Thorpeness
Welcome to Aldeburgh and surrounds
If you are driving from Thorpeness and before you reach Aldeburgh, see the Scallop Shell by Maggi Hamblin set on the beach. The town, made famous by Benjamin Britten, and the nearby Snape Maltings offer art and music lovers a wide programme to enjoy. Aldeburgh Festival is in June but there is a full year-round calendar of Aldeburgh Music events. 
Aldeburgh offers a lovely beach with Martello Tower, a wealth of interesting shops, restaurants and pubs. Famous for its fish and chips shops, there are many more cafes restaurants and pubs. Spoilt for choice! There is plenty of sailing from Slaughden and Aldeburgh available.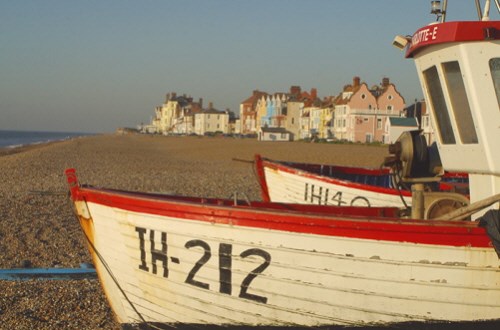 The area around here is nature reserve common/heathlands is a quiet unspoilt area, great for walking and cycling, within minutes you can be at Thorpeness or Aldeburgh. Lots going on, families and couples return year after year to this special holiday destination.
Properties to rent near Aldeburgh: please ask for up-to-date information.